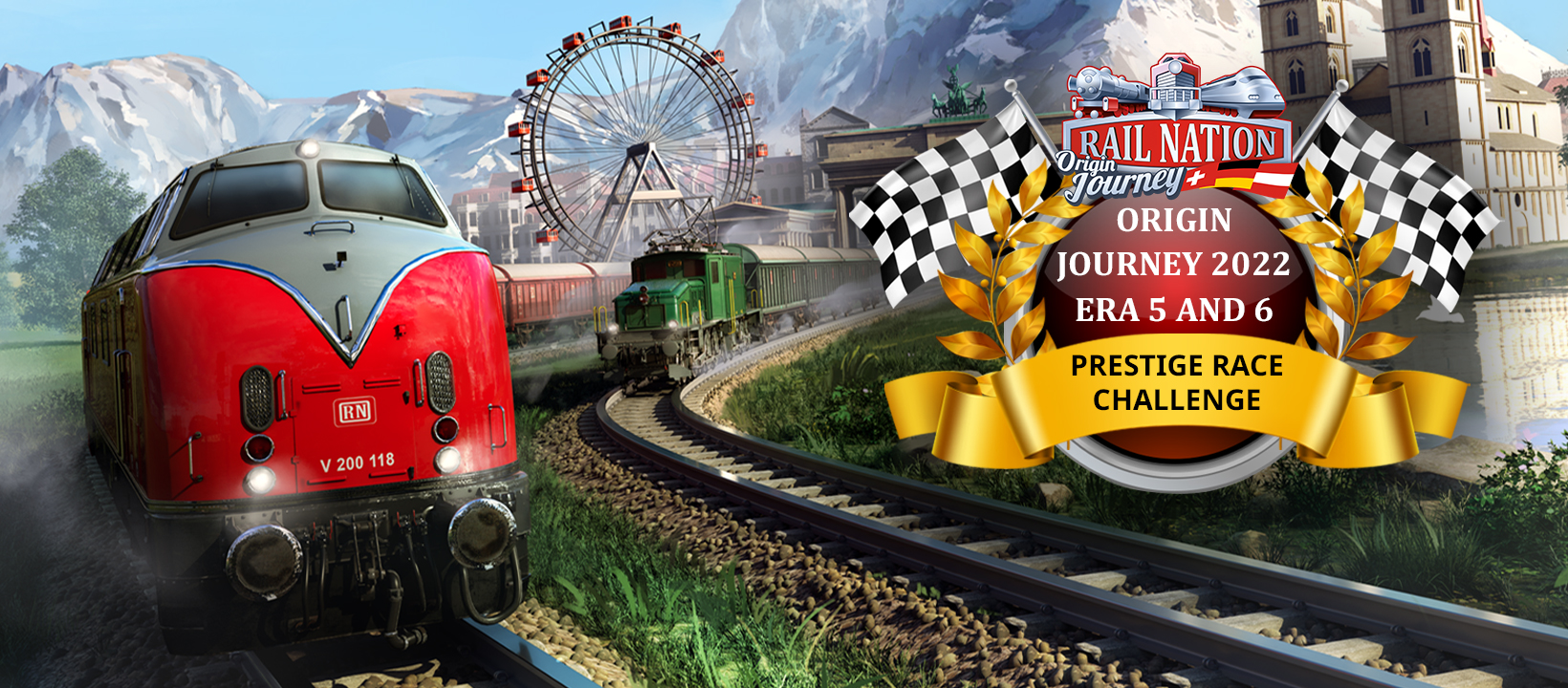 To all conductors and engineers out there, proud participants of the Origin Journey adventure, are your engines well prepared? Are your trains oiled, serviced and ready to set cities and industries in a roaring blaze of delivering fury? If the answer is yes, then say no more and please read the following:
On all Origin Journey servers, we will conduct a Prestige race for Eras 5 and 6. On all 4 servers, the player that will obtain the most prestige during these 2 Eras, regardless of how much prestige he had at the end of the 4th Era, will be rewarded.
Only prestige acquired during these 2 Eras will be tracked and counted: everybody will start from the same conditions.
The winners will get the Gold Community Hero achievement and 1.200 Gold – Gold via voucher with a validity of 4 weeks, redeemable one time on any server.
May the best win!
Your Rail Nation Team
Disclaimer:
This challenge will run from the

16th until the 30th of August in the Origin Journey servers "EE303 Baltic Sea" and "DE304 Oktoberfest" and from the 19th of August until the 2nd of September in the servers "DE305 Nordsee" and "INT304 Matterhorn".

Participation is free.

Winners will get a maximum of one Gold reward and achievement – you can play as many

Origin Journey

servers as you'd like but to keep it fair and so as many players as possible have a chance to win, a winner can only win one time. E.g. Two weeks after the event launch you obtain the most prestige in

Baltic Sea

. You will be rewarded and announced as the winner. If you also obtain the most prestige in

Oktoberfest or Matterhorn

, the next player with the most prestige that has not won in another server will get the prize.

Prizes (Gold and achievement) are non-transferable nor exchangeable. They are only given in the game premium currency (Gold) in the amount of 1.200 (one thousand two hundred) via

voucher code

and in the form of a career achievement retrievable on your career page.

By playing the

Origin Journey

servers, players agree to win an additional prize should they meet the conditions of the challenge, as participation in this additional challenge is automatic.

Players also agree that their in-game nickname is mentioned in one or several of our platforms (blog, discord…) as winners of the

Origin Journey

additional challenge.
For gold transfer rules please visit: How to transfer Gold in Rail Nation: https://support.rail-nation.com/en/support/solutions/articles/7000065972-how-to-transfer-gold-in-rail-nation